Westminster Hall:
Hammer-beam roof; Hugh Herland; completed probably 1398.
Technically audacious, and unprecedented and unparalleled visually, the greatest work of English medieval carpentry.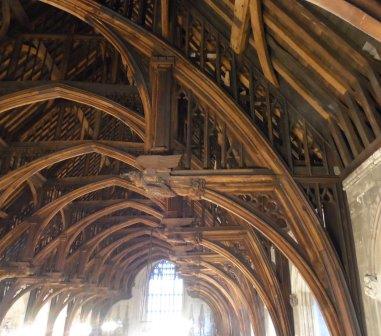 The colossal royal hall of William Rufus (comp. 1099) had stood for nearly three centuries on Thorney Island, west along the strand from the City of London, when in the early 1390s Richard II decided to erase its by then passé design. The form of the eleventh-century carpentry is unknown. Recent academics have forcefully argued for a boarded, scarfed tie-beam roof. But it may well have been of aisled construction, of arcade posts, arcade plates and common rafters. This was a type of structure (the arcade posts sometimes substituted by stone piers) that was to persist in high-status halls soon after the completion of Rufus's hall and for the following two-and-a-half centuries (for examples: the royal house at Cheddar (early C12); Leicester Castle (c. 1150); Farnham Castle (mid C12); the Bishop's Palace, Hereford (1179); Henry II's great hall at Clarendon (c. 1181); Oakham Castle, Rutland (1180-90); the hall at Winchester Castle (early C13)).

But by the beginning of the fourteenth century taste in seigneurial and royal halls had moved on. Wealthy patrons had developed a liking for the open hall, uncluttered by aisle posts. Examples of this trend for the elimination of aisle posts are: the great hall of the Archbishop of Canterbury's palace at Mayfield, East Sussex (c. 1330); Penshurst Place, Kent (c. 1341) constructed for the London merchant and financier Sir John Pultenay; the great hall at Windsor Castle built for Edward III (c. 1362); and probably the great hall of Kenilworth Castle, Warwickshire, constructed for John of Gaunt in the 1380s. For a hall designed to display his divinely ordained regality, King Richard II would demand the apotheosis of any new architectural trends and technical advances. But how then was 'the disposer of the King's works touching the art or mystery of carpentry', Hugh Herland, to manage the vast span of Westminster Hall of nearly 69ft (21m) without any supportive aisle posts?

In considering the challenge of the widest span of any English medieval structure, Herland must have dismissed a number of options early on. Oak tie beams of a double-framed roof at around seventy-five feet in length (to allow them to sit securely on the wall head), each weighing approximately twelve tons, would have been impossible to source, constructionally inconvenient and - eliminating any prospect of soaring verticality to the roof - aesthetically unthinkable. Crucks, including base-crucks, of such massive dimensions would similarly be impossible to locate, and besides, full crucks perhaps smacked of the bucolic. An arch-braced roof is an attractive open roof form, and was being used to enrich fourteenth-century buildings of prestige. But arch-braced trusses are inherently poor at resisting lateral thrust, and to span the enormous space at Westminster with such a structure would be unconscionably risky. The hammer-beam roof was Herland's only option: hammer-beam construction supplies aesthetic possibilities not found in other frames; it is a form of structure which inherently uses shorter timbers, thus avoiding timber supply problems; and, as a system of buttressed opposing brackets, it offers a degree of structural stability.


Hugh Herland's singular roof at Westminster has triggered lengthy debates and heated arguments. Antiquarian interest began in the early nineteenth century, and investigations, archaeological, technical and art-historical continued well into the twentieth. Debate has largely centred on how the roof performs structurally, with the function of the dominant - and extraordinary - arched rib the focus of most scrutiny. Many scholars have determined the arched rib to be a primary structural component. Following my own research I concluded that Herland intended the roof's stability to depend largely on the hammer-beam framing, but with some belt-and-braces structural function built into the rib. After all, this was carpentry of previously unprecedented scale and aesthetic intent for the most demanding of clients, and for Herland to experiment with the untried framing of a structural arched rib in such a colossal roof seems unlikely.


Literature: The literature on the Westminster Hall hammer-beam is extensive, beginning early in the nineteenth century. Good bibliographies are found in Courtenay (1984), Courtenay & Mark (1987), Beech (2015 and 2016) and this website. Indispensable is Frank Baines's Report … (1914).
Wind Brace:
Timber set in the plane of the roof, usually between purlin and principal rafter, to create triangulation and thus prevent racking, viz the tendency of a series of roof frames to collapse like a domino rally. In certain parts of England and Wales, for example the western counties of England, wind bracing eventually became more about ornament than structural integrity.
A fine example of ornamental wind bracing is at the Guesten Hall

Curiously, up until around the second quarter of the thirteenth century, western European carpenters seemed unconcerned by racking, and even huge roofs were constructed with the complete absence of structural longitudinal timbers. For example, France, choir of Bayeux Cathedral, 1227-28; in England, Wells Cathedral, nave; 1212-1213; Lincoln Cathedral, St. Hugh's Choir roof, c.1201.
Wind braces are difficult to identify in medieval documents, the term 'wynde beam' mainly applying to collars.

Literature: Mercer (1975); Yeomans (2009); Hoffsummer (2009); Beech (2015).